How Search and Seizure Issues Impact Prescription Drug Charges in Tampa, Florida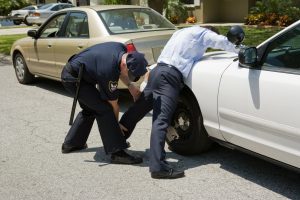 This is the next post in my series on the handling of prescription drug charges in Tampa, Florida. My last article provided an overview of topics which this series will be addressing and it also stressed the need to contact a criminal defense attorney if you or a loved one have been arrested. It is important to contact counsel sooner, rather than later, so that he or she may begin building a defense on your behalf. In this article I will discuss how search and seizure issues can impact the handling of such matters. If you believe the police found narcotics, as a result of violating your rights, then contact a lawyer immediately.
The Fourth Amendment Prohibits Tampa Police From Finding Prescription Drugs Through an Illegal Seizure
The Fourth Amendment to the U.S. Constitution protects from an unlawful search or seizure by law enforcement. Under Terry v. Ohio, the police may not stop someone simply because they want to. Law enforcement may only stop and question an individual if they have "reasonable suspicion" that the person is engaging in, or is about to engage in, criminal activity. Whether there is reason to suggest such conduct will depend on the specifics of the situation as well as the officer's training and experience. If an officer stops someone without the requisite suspicion of criminal conduct, and drugs are found as a result, then it may be possible to exclude the drugs from evidence.
Say, for example, that the police witness a young man walking through a rough neighborhood at night. Simply being in a particular neighborhood generally does not justify a belief that someone is doing something wrong. If officers stop the person and find drugs as a result then they may have violated the suspect's rights. Now say that an individual spends a long time standing on a corner in a neighborhood that is known for drug activity. Also, suppose that the police witness multiple people approach the individual standing on the corner. Under these circumstances the officers may have reason to believe that the individual is selling prescription pills or other narcotics. Under these facts, the officers would likely be justified in stopping and questioning the person as part of an investigation.
Florida Courts may Dismiss Drug Charges Which are Based on Illegally Seized Evidence
It is possible to have pills or other evidence excluded from the Court's proceedings if they were found through a violation of the defendant's rights. The first step in excluding the drugs is to file a Motion with the Court. This is a formal document which states the reasons for which the defendant's rights were violated. An evidentiary hearing will be held at which the accused's defense lawyer will examine the arresting officers. If the Court finds that the defendant's rights were violated then, depending on the facts of the case, the charges may be dismissed.
Search and seizure issues involve complicated questions of law and one who has been arrested with prescription pills or other drugs should contact a Tampa attorney who is experienced in handling such matters. I devote my practice to defending the rights of the accused and I believe that everyone is entitled to aggressive representation. Contact my office today to schedule an initial consultation.
Omar also serves clients in Bradenton, Brandon, Clearwater, Lakeland, Largo, Palm Harbor, Sarasota, Spring Hill, St. Petersburg and Tampa.