Omar Abdelghany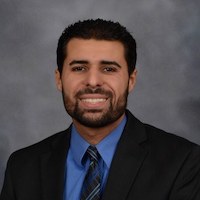 Download VCard
Phone: 813-461-5291
550 N Reo St #300
Tampa, Florida 33609
Omar Abdelghany is a criminal defense attorney practicing in Tampa Bay, Florida, and the surrounding area. He graduated cum laude from California Western School of Law in San Diego, California. He is licensed with the Florida Bar and is also licensed in the United States District Court for the Middle District of Florida and the United States District Court for the Northern District of Florida. Omar's experience includes having completed a judicial externship with Justice Terry O'Rourke at the California Fourth District Court of Appeals and his having worked as a trial attorney at the Palm Beach Public Defender's Office. While at the Public Defender's Office, he gained valuable insight into the criminal justice system, and he now uses this experience to ensure that everyone's rights are fully protected.
Why Choose Omar Abdelghany
If you are looking for a tried and tested criminal defense attorney, you have come to the right place. Omar is tenacious and confident in the courtroom. He understands the severity of the matter and how important it is for his client to be cleared of false charges against him or her. Omar will be as dedicated and serious about protecting your freedom as you are.
Omar has zealously and successfully defended clients facing all types of charges: misdemeanors, felonies, drug crimes, domestic violence charges, white-collar crimes, driving under the influence, weapons crimes, fraud charges, theft charges, and federal crimes. From drug possession and drunk driving to felon in possession of a firearm and domestic violence, Omar has experience in bench and jury trials.
Over the years, Omar has gained a strong reputation as an ideal advocate for his clients; this work ethic has earned the respect of his peers and members of the judiciary. His vast experience serves as an ideal platform that promises consistency, passion, and attention to detail towards every client. All these impeccable work ethics guarantee successful outcomes and satisfied clients. Other budding attorneys prefer to consult with Omar due to his breadth of experience in the fields of felonies and general criminal defense. Omar has gained a reputation for the highest level of presentation and ethical law practice standards.
Many of his peers and clients describe him as an attorney with a tremendous skill set, who fights fiercely for his clients. He has helped his clients get better outcomes because he understands the complexities of the criminal defense system in Tampa, Florida, and the surrounding area. Therefore, if you are looking for a professional criminal defense attorney who invests in your legal success with dedication, contact Omar now. He has excellent reviews from his clients and currently holds a 100% rating on AVVO.
Omar prides himself on operating a firm that provides a high level of service. He will promptly return all phone calls, messages, emails, and will make himself available to address any of your concerns. He regularly provides clients with his cell phone number so that he may be reached directly. He promises this level of service regardless of whether you are facing a low-level offense or if you are at risk of going to prison.
Do not leave your future up to chance and get Omar's expert consultation on your case.
Omar's areas of practice include, but are not limited to:
Misdemeanor charges
Felony charges
Federal criminal charges
Drug charges
Domestic violence charges
White collar crimes
DUI
Contact our office to schedule an initial consultation.