Top Five White Collar Crimes in Hillsborough County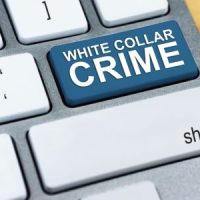 In 1939, sociologist Edwin Sutherland defined "white collar crime" as financially motivated, nonviolent crimes. These labels are not entirely accurate. For example, many computer criminals break into banks and other institutions to make a statement, not to steal money. Furthermore, anyone who has ever been the victim of identity theft or a Ponzi scheme would certainly refer to such crimes as violent.
Mostly because of that second aspect of white collar crime, authorities aggressively investigate and prosecute these matters. Therefore, if you were charged with one of these crimes, it's often impossible to pay restitution and make it go away. Instead, a Tampa criminal defense lawyer must aggressively stand up for your rights in court.
Bribery
This offense often doesn't meet the aforementioned white collar crime labels. Normally, people bribe public officials to receive favorable treatment, not to gain a direct financial return.
Bribery is a political hot-button crime that authorities anxiously charge whenever possible. But under Florida law, bribery is very narrowly defined. Essentially, this offense requires specificity. There must be a quid pro quo. The defendant must give something of value in exchange for a specific return. An expectation of favorable treatment, or even a promise of favorable treatment, won't hold up in court.
Bank Fraud
Like white collar crime, bank fraud is an umbrella term which covers a number of financial and non-financial crimes that target financial institutions.
Account fraud, loan fraud, and computer hacking are the three main kinds of bank fraud. Account fraud usually involves presenting false information when opening an account. A misstatement on a loan application usually refers to identity or income/debt balance. We briefly talked about computer hacking above.
In general, fraud is an intentional misstatement of a current fact that's designed to produce economic gain. Prosecutors must establish each of these elements beyond a reasonable doubt.
Embezzlement
This offense is more than just employee theft. It usually involves a betrayal of trust. So, alleged victims often don't let embezzlers get off light.
Overall, alleged victim testimony is often critical in white collar crime cases. By the time these cases go to court, many alleged victims, even some embezzlement alleged victims, lose interest in the case. Therefore, delay could be one of the most effective weapons in a Tampa criminal defense attorney's arsenal.
Tax Fraud
There's a difference between underpayment and fraud. Tax underpayment is a civil matter. The taxing authority may assess penalties and interest, but no criminal penalties are involved. As mentioned, fraud is usually an intentional misstatement, which the IRS usually defines as willfulness. That's one step short of maliciousness.
Insurance Fraud
Auto insurance fraud is especially common in no-fault insurance states, like Florida. Since there is no court supervision over many claims, fraudsters often feel emboldened to file false or exaggerated auto insurance claims. Generally, auto insurance companies are on the lookout for fraudulent claims.
In other cases, insurance fraud roughly overlaps with bank fraud. If policyholders lie on insurance forms, the company could do more than deny coverage. The company might also have a valid insurance fraud claim in criminal court. 
Count on a Diligent Hillsborough County Attorney
A criminal charge is not the same thing as a criminal conviction. For a free consultation with an experienced criminal defense lawyer in Tampa, contact the OA Law Firm. We routinely handle matters in Hillsborough County and nearby jurisdictions.
Resource:
fbi.gov/investigate/white-collar-crime