Resolving White Collar Criminal Cases In Hillsborough County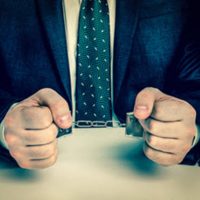 One of the first recorded plea bargains in American history involved a white collar criminal case. In February 1881, since prosecutors dropped felony embezzlement charges, Californian Albert McKenzie pleaded guilty to misdemeanor embezzlement. Prosecutors charged that McKenzie, who worked for a sewing machine company, embezzled $52.50 from his employer. The McKenzie plea signaled a sea change in criminal procedure. Before then, trials resolved most criminal cases. Today, plea bargains resolve about 95 percent of criminal cases. Many white collar criminal defendants who voluntarily plead guilty receive a special kind of probation. More on that below.
Many white collar crimes involve borderline acts. For example, Pete may use a company credit card for a personal purpose that his boss hasn't explicitly prohibited or has permitted before. In such cases, a Tampa criminal defense attorney is often able to successfully resolve such charges. That's especially true if the defendant has paid restitution. At that point, most complaining witnesses lose interest in the criminal case. Without this key witness, prosecutors often lose interest in the matter as well.
Pretrial Diversion
Most prosecutors are anxious to offer pretrial diversion in white collar criminal cases, even if they are felonies. Program requirements vary, but the end result is always the same. Prosecutors dismiss the charges, which means the defendant has no criminal record.
Pretrial diversion is readily available, but most prosecutors don't offer it initially. Instead, they only offer it after a Tampa criminal defense attorney points out a weakness in the state's case.
Usually, this weakness involves a lack of evidence. The burden of proof in a criminal case (beyond any reasonable doubt) is very high. Most prosecutors don't have a problem proving that the defendant took money or other property. Accounting records are usually admissible in court, if a witness authenticates them.
However, as mentioned, many complaining witnesses lose interest in these cases, especially if the matters are pending for several months. Additionally, many complaining witnesses relocate beyond the court's subpoena range. So, at best, prosecutors often have an unwilling key witness in these cases.
Intent is more difficult to prove. That's especially true if the alleged wrongful taking was a one-time incident or the alleged takings were not chronologically close together. These takings could have easily been honest mistakes.
If the evidence is weak, prosecutors would rather offer pretrial diversion than see the defendant walk away without facing any adverse consequences.
Deferred Disposition
A similar mindset applies to this special form of probation. Usually, these defendants plead guilty and judges sentence them to probation. However, judges don't officially find these defendants guilty. Instead, the judge defers that part of the plea until after probation is complete. Then, even if the defendant has a less than perfect record, the judge dismisses the case.
Deferred disposition is usually a good option for defendants. However, there are some significant downsides that defendants should review with their Tampa criminal defense attorneys.
In both cases, the arrest record remains. Some defendants choose to leave well enough alone and do nothing to address their arrest records. Most people, including potential employers, only care about convictions anyway. If erasing that arrest record is a priority, some options may be available including record sealing and executive pardon.
 Rely on a Thorough Hillsborough County Attorney
A criminal charge is not the same thing as a criminal conviction. For a free consultation with an experienced criminal defense lawyer in Tampa, contact the OA Law Firm. We routinely handle matters throughout the Tampa Bay area.
Source:
history.com/this-day-in-history/plea-bargaining-gains-favor-in-american-courts