Angry Customer Pistol-Whips UPS Manager In Miami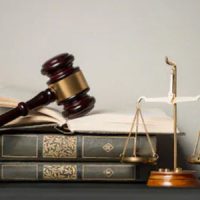 A dispute over a damaged printer led to a violent assault which police are still investigating. "He started hitting me with a handgun a couple of times," the alleged victim said about the customer.
Store security footage captured the man, dressed in a bright orange shirt and black shorts, attacking a UPS store manager. "He started hitting me with a handgun a couple of times," said the manager. "Everybody started running in the store." The Miami store manager tried to calm the suspect down, fearing that he "was gonna get shot," but to no avail. He adds that he was hit in the back of his ear with the gun, as well.
"If you're gonna come to a store, don't be aggressive," a UPS employee who witnessed the incident remarked. "There are other ways you can do it. You don't have to threaten people's lives. You don't have to be so aggressive. We can talk things out."
Assault Elements
Ordinary assault, aggravated assault, and other such Florida offenses basically have two elements. First, prosecutors must establish the defendant's identity. Additionally, the state must prove the extent of the alleged victim's injuries.
Frequently, these cases begin when officers respond to disturbance calls. The defendant's identity is relatively easy to establish in these cases, especially if only one person is injured.
Incidentally, in an ordinary assault case, this "injury" need not be serious or even visible. Under the law, the injury must only be a harmful or offensive touch. Severe injuries, such as an injury requiring first aid or, in the above story, requiring more intense medical care, simply makes the intent element easier to prove.
However, if the defendant has fled the scene by the time officers arrive, this element is much more complex. Surveillance camera footage might not establish the defendant's identity beyond a reasonable doubt, unless the vagabond looked directly at the camera lens.
Essentially, proof beyond a reasonable doubt is an overwhelming amount of evidence. Any questions about the evidence creates leverage for a Tampa criminal defense attorney. Lawyers use this leverage to obtain a favorable verdict at trial or negotiate a favorable plea bargain.
Extent of injury is a little different in an aggravated assault claim. The state must usually either prove that the alleged victim sustained serious injuries or that the defendant used a weapon. Under Florida law, a "weapon" could be pretty much any object, like a baseball bat, golf club, or coffee decanter.
Possible Defenses
We discussed the lack of evidence above. Frequently, this defense is the most effective defense, since the burden of proof is so high in criminal cases.
Frequently, assault defendants were somehow impaired. Reasonable people who are thinking clearly usually don't pistol-whip people who probably had nothing to do with the incident in question.
Impairment could be a legal defense. For example, voluntary intoxication is a defense in many aggravated assault cases. The defendant must intend both the conduct (hitting the alleged victim) and the result (seriously injuring the alleged victim). As a matter of law, intoxicated individuals don't have the mental capacity to think things through in this way.
More frequently, impairment is an extenuating circumstance that's relevant during sentencing. Various medical conditions, like a brain injury and Intermittent Explosive Disorder, often explain erratic behavior. People with brain injuries often don't have the medical capacity to control their emotions. IED is a similar condition. These individuals react violently to minor slights, such as getting a banged-up printer or being cut off in traffic.
Reach Out to a Diligent Hillsborough County Attorney
A criminal charge is not the same thing as a criminal conviction. For a free consultation with an experienced Tampa assault & battery lawyer, contact the OA Law Firm. The sooner you call us, the sooner we start fighting for you.
Source:
foxnews.com/us/florida-man-pistol-whips-assaults-ups-store-manager