Tampa Jury Returns Guilty Verdict In Hate Crimes Case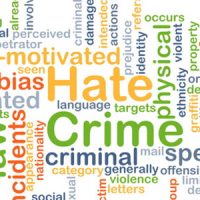 A 29-year-old man faces up to ten years in prison after a jury concluded that a 2021 road rage incident was racially motivated.
Court documents show that the defendant encountered J.T, the alleged victim, while he, his girlfriend, and 4-year-old daughter were en route to Clearwater. The defendant pretended to "shoot" the victim and yelled racial slurs. Then, the defendant forced the alleged victim off the road. At that point, the defendant "got out of his car, stormed at J.T., and tried to assault him, again yelling racial slurs," according to prosecutors. Unbeknownst to the defendant, J.T. was a mixed martial arts fighter. J.T. put the defendant in a headlock and held onto him until peace officers arrived.
Assistant Attorney General Kristen Clarke of the Justice Department's Civil Rights Division said the verdict "should send a strong message" about the government's commitment to prosecuting "those who would use violence to enforce heinous racist beliefs."
Florida's Hate Crimes Law
Like similar laws in other jurisdictions, Section 775.085 is not a standalone law, but rather an enhancement provision. Additionally, "hate" is not an element of the hate crimes law in Florida.
Prosecutors may enhance most criminal charges one level (second-degree misdemeanor to first-degree misdemeanor, first-degree misdemeanor to third-degree felony, and so on) if the defendant committed the crime based on the alleged victim's:
Race,
Color,
Ancestry,
Ethnicity,
Religion,
Sexual orientation,
National origin,
Homeless status, or
Advanced age.
In Florida, "sexual orientation" usually doesn't include gender identification. "Advanced age" is over 65 and "homeless" means a person who doesn't have a private place to sleep on a regular basis, or s/he sleeps in a "public or private place not designed for, or ordinarily used as, a regular sleeping accommodation for human beings."
Additionally, the enhancement applies if "the defendant perceived, knew, or had reasonable grounds to know or perceive that the victim was within the class delineated in this section." If scammers target old people because they believe such individuals are easier to fool, these scammers are technically committing hate crimes. The same thing could apply if a burglar targets Asian houses because he believes these individuals have high incomes.
Since the hate crime enhancement is so broad, a Tampa criminal defense lawyer usually challenges the evidence in the underlying offense, as opposed to the evidence supporting the hate crime add-on. If there's insufficient evidence to support the charge, or an affirmative defense applies, the enhancement doesn't matter.
Self-Defense in the Sunshine State
Florida's self-defense law is quite complex. But it boils down pretty easily. Basically, people act in self-defense if they use a proportionate amount of force to counter a threat to themselves, their property, or third persons.
The Sunshine State has a stand-your-ground law. This law simply means that defendants don't have a duty to retreat before they use deadly force.
In this particular case, had put the defendant in a chokehold before the defendant advanced on the alleged victim, self-defense would be difficult to prove. Physical force isn't a proportionate response to racial slurs and taunts, no matter how bad they are.
To determine if this alleged victim's response was proportionate, the jury would have to look at a number of factors, such as the size difference between the two individuals, whether the defendant was under the influence of a substance (people who are drunk or high do crazy things), and the degree of the threat.
Since self-defense is an affirmative defense, a Tampa criminal defense lawyer must prove each element of the defense, usually by a preponderance of the evidence (more likely than not).
Contact a Diligent Hillsborough County Attorney
A criminal charge is not the same thing as a criminal conviction. For a free consultation with an experienced criminal defense lawyer in Tampa, contact the OA Law Firm. Virtual, home, and after-hours visits are available.
Source:
nbcnews.com/news/us-news/florida-man-convicted-hate-crime-road-rage-attack-black-martial-artist-rcna44951