Search Warrant Requirements In Florida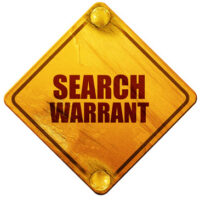 During Colonial times, British officials used blank search warrants, called writs of assistance, to search private property, ostensibly for evidence of smuggling. Of course, there were a number of abuses, especially since these blank search warrants were transferable. So, Congress quickly added the Fourth Amendment to the Constitution. The states quickly ratified this amendment, which requires law enforcement officers to have probable cause before they search property.
As outlined below, "probable cause" is a rather nebulous concept. So, a Tampa criminal defense attorney can often successfully challenge a search warrant's legitimacy. If the judge agrees, the judge must also exclude any evidence law enforcement officers obtained, directly or indirectly, because of the tainted warrant. When that happens, the state's case normally falls apart due to a lack of evidence.
Basic Requirements
The Fourth Amendment states that judges may issue search warrants if an affidavit demonstrates probable cause. This standard, which has never been precisely defined, is somewhere between reasonable suspicion, which is basically an evidence-based hunch, and beyond a reasonable doubt, which is the standard of evidence at trial.
Frequently, a warrant relies, at least in large part, on an informant's testimony. If that informant is an undercover or other police officer, many judges issue warrants without asking too many questions. Police officer testimony is practically reliable as a matter of law.
The same thing applies in non-warrant situations. Assume Officer A sees Frank shoot someone. Officer A alerts Officer B, who was several blocks away, who then arrests Frank. Even though Officer B didn't witness the shooting, the arrest will probably hold up in court.
At the other end of the spectrum, anonymous tips are practically unreliable as a matter of law, unless there is some corroborating evidence. If the tipster didn't vouch for the information, there is no reason for a judge to give it any more credibility.
Confidential Informant testimony is in a grey area. Since most CIs receive leniency, money, or something else in exchange for their testimony, some additional reliability factors usually apply, such as:
Amount of compensation (many people will say almost anything for love or money),
CI's track record,
Specificity of the information,
Timing (most CI data has a very short shelf life), and
Corroborating evidence.
Prosecutors cannot work backwards. They cannot argue that if officers found what they were looking for, the warrant must have been valid. The opposite is also true. Even if officers strike out, the warrant could have been valid.
No-Knock Warrant Requirements
These controversial search warrants are normally illegal in Florida. Under State v. Bamber (1994), the State Supreme Court only allows no-knock warrants if:
The person who is the search warrant's target "already knows of the officer's authority and purpose,"
Officers reasonably believe that "persons within are in imminent peril of bodily harm,"
"If the officer's peril would have been increased had he demanded entrance and stated the purpose," or
"Those within made aware of the presence of someone outside are then engaged in activities which justify the officers in the belief that an escape or destruction of evidence is being attempted."
The second and third bullets are the only ones that could apply in most cases, and the burden of proof is very high. For example, evidence that the defendant had a gun is probably not enough to prove officer or third-party peril, without some additional proof.
Contact a Thorough Hillsborough County Attorney
Search warrants must be based on probable cause. For a free consultation with an experienced criminal defense lawyer in Tampa, contact the OA Law Firm. The sooner you reach out to us, the sooner we start fighting for you.