Two Florida Colleges Highly Ranked On 'Safest Colleges' List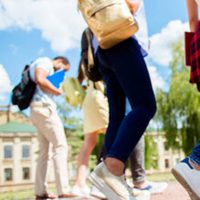 St. Petersburg University and Rasmussen College in Ocala were among the top twenty safest colleges in America, according to a national publication.
Largo's St. Petersburg College, which is mostly a liberal arts college, has a little over 8,000 undergraduate students. The public college has a 100 percent acceptance rate and decent student ratings. The average graduate earns a little over $32,000 a year. People who graduate from Rasmussen, a for-profit university with 4,100 students, usually earn about $25,000 a year. Early childhood education and nursing are the most popular majors. The school has about a 40 percent graduation rate.
Concordia University in St. Paul, Minnesota was the nation's safest campus, followed by Bay Path University in Massachusetts, Joyce University in Utah, and Penn State-Scranton in Pennsylvania.
Common College Campus Criminal Offenses
DUI and sexual battery are among the most common criminal offenses on college campuses. Both infractions often involve serious proof issues.
Basically, DUI is operating a motor vehicle under the influence of alcohol or a prohibited substance. If the defendant provided a chemical sample, the prohibited BAC level is .04 for defendants over 21. For defendants under 21, Florida's zero tolerance law usually applies. Chemical tests, especially Breathalyzer tests, aren't perfect.
Non-test cases involve additional evidence issues. Typically, prosecutors must rely on circumstantial evidence from the field sobriety tests to prove intoxication. The walk-and-turn is an example of the proof problems in these tests. It's almost impossible to walk a straight line heel to toe in dress shoes, flip flops, cowboy boots, or anything other than athletic shoes. It's harder still to walk a line in the open while distracting squad car lights flash in the distance.
Florida's DUI-drugs law is unusually narrow. Only a handful of substances are on the prohibited list. Furthermore, a Tampa criminal defense attorney may be able to get such charges thrown out of court if a drug side-effect, as opposed to drug overuse, caused the defendant's impairment.
Sexual battery cases have proof problems as well. Frequently, these matters involve a he said, she said exchange. That's usually not proof beyond a reasonable doubt. That's especially true since, in many cases, the alleged victim had been drinking.
Effects of a Criminal Conviction
Criminal convictions always have direct and collateral effects. These effects are unique for college students.
Technically, criminal convictions don't derail most scholarship or student financial aid applications. But, they do push the applicant to a less favorable place in line. Since only so much money is available, by the time the student's number is called, more money might be unavailable.
Usually, criminal convictions have the same effect on job applications. Sometimes, DUI and sexual battery convictions bar certain people from certain jobs, especially those requiring a state license. More often than not, however, a criminal conviction is effectively strike one. It's a lot harder to get on base when you're down in the count.
Additionally, criminal convictions, or even criminal arrests, often trigger campus disciplinary proceedings. The school could take adverse action, up to and including expulsion, because of a criminal past. A Tampa criminal defense lawyer can represent students in these situations and minimize the damage.
Furthermore, especially if the offense is a non-sex crime misdemeanor, an attorney may be able to have the criminal record sealed. Sealing takes care of most of the adverse effects of a criminal conviction.
Contact a Thorough Hillsborough County Attorney
A criminal charge is not the same thing as a criminal conviction. For a free consultation with an experienced Tampa criminal defense lawyer, contact the OA Law Firm. We routinely handle matters throughout the Sunshine State.
Source:
niche.com/colleges/search/safest-colleges/