Broward County Man Walks Free After Thirty Years Behind Bars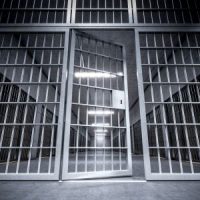 Witness recollection and lineup issues, along with other evidence issues, prompted prosecutors to dismiss a 1988 armed robbery case.
The 57-year-old inmate was arrested in October 1988 in connection with an armed robbery that June of two people outside a convenience store in unincorporated Broward County, just west of Fort Lauderdale, according to the state attorney's office. Accused of being the driver for two unidentified men who committed the robbery, he was convicted by a jury in April 1989 and sentenced the next month, according to the state attorney's office.
One of the two victims described a car used in the robbery as a brown Oldsmobile Cutlass with a tan top and a hole in the trunk. Weeks later, the victim's brother saw a brown Cutlass driving down a road and reported the license plate number to authorities. That car was registered to the inmate. Additionally, one of the victims identified him in a second photo lineup — despite not being identified during an initial line up.
Based on the recent review of the case, prosecutors "determined that the defendant had a plausible claim of innocence because of how he became a suspect and because of the precarious eyewitness identification that was the principal evidence against him at trial," the state attorney's office said. "The Broward state attorney's office would not have charged Holmes if the case were presented today," the conviction review unit wrote in its final memorandum on the case.
Criminal Organizations in Florida
It's not surprising that the defendant received such a long sentence in this case, even though he was allegedly only the driver. In such cases, a Tampa criminal defense lawyer must deal with Florida's broad street gang and RICO laws.
Under Florida law, a street gang is any three or more people who formally or informally work together to commit a crime. The street gang crime enhancement often transforms a relatively minor felony into a major felony.
Furthermore, if any gang member commits a crime, the other gang members could be charged with that crime, at least in some cases.
Officers will do almost anything to apply a street gang enhancement. That includes searching through cell phones to find evidence of gang affiliation. These searches require warrants based on probable cause. Under current law, individuals have a reasonable expectation of privacy in anything past a phone's home screen.
Florida's version of the federal Racketeering Influenced and Corrupt Organization law could apply as well. However, it usually only applies to felonies. If one member of a criminal organization commits a felony, all members could be charged with that same felony.
The robbery statute contains similar provisions. Usually, a defendant who serves as a lookout or drives the getaway car is equally as guilty as everyone else, even if that defendant didn't know everything that was going on.
The felony murder rule could apply as well. If an actor kills someone during commission of a felony, that actor could be charged with murder, even if the act was unintentional. A getaway driver who strikes and kills a child is the classic example.
Witness Recollection
It's also no surprise that the witness in the above case implicated the defendant. The witness wanted justice for his cousin, and was willing to do almost anything to get it.
Eyewitness bias is a serious issue in Florida criminal court. Many jurors put a lot of stock in eyewitness testimony. It's important for a Tampa criminal defense attorney to point out possible bias, so the jury considers such testimony appropriately.
On a related note, human memory fades quickly. If investigators interview a witness more than five or six hours after a crime, that witness' memory has already degraded. The witness may be unable to recall key details about the incident, especially if those details seemed insignificant at the time.
Lineup Issues
Cross-racial identification and single-blind lineups are among the most common lineup issues in Florida.
People of one ethnicity usually cannot properly identify people of another ethnicity. If a Black man sees ten White men in a lineup, and all those men are about the same weight, age, and height, all those men look the same. That's not racism. That's science.
Additionally, most lineups are single blind. The witness doesn't know the offender's identity, but the administering officer knows. As a result, the officer gives the witness subtle clues about which person to pick out of the lineup.
Double blind lineups (neither the witness nor the officer knows the suspect's identity) are much more reliable. 
Reach Out to a Diligent Hillsborough County Attorney
A criminal charge is not the same thing as a criminal conviction. For a free consultation with an experienced criminal defense lawyer in Tampa, contact the OA Law Firm. We routinely handle matters in Pinellas County and nearby jurisdictions.
Source:
wesh.com/article/sidney-holmes-freed-florida/43334986#